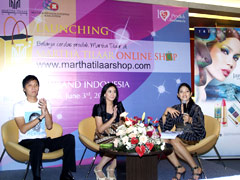 Observing the latent phenomenon in the world of internet and gadget, these days many people prefers to shop online. For reasons of practicality and time-saving, a special offer can usually be found online.

Martha Tilaar Shop Goes Online
As the leading cosmetic company in Indonesia in terms of innovations, Martha Tilaar Group acknowledges the constant need to provide their customers with the best of services. Therefore, since May 2009, Martha Tilaar has officially opened their first online shop at www.marthatilaarshop.com.
There are only 5 brands from Martha Tilaar Group available: Sariayu, Caring Colors, Biokos, Dewi Sri Spa, and PAC. "We want to see first the respond from consumers by launching products in package," says Samuel Pranata, Marketing Director of Martha Tilaar Group. "But we don't discount future possibilities of adding further variants from each of the brand." He also mentions that the online cosmetic business is a growing market and it is one of the stepping stone to become an internationally known local brand.
Methode 4P: Order, Payment & Practical Delivery
Shopping at Martha Tilaar Online Shop (MTOS) has its own advantages, starting from the ordering mechanism to buyers' registration to the simple payment system (through bank transfer). And the delivery cost to your home is free, plus you can get a special prize for every purchase. In the first month, lucky consumers who give the best testimonials can get a chance to win a Blackberry.


"We always try to give the best service to consumers of Martha Tilaar Group's products," says Erlisativani, Corporate Communication Manager of Martha Tilaar Group. "The package and the products that are purchased online will be delivered in maximum time of three days since confirmation of payment."

Launching MTOS
The official launch of Martha Tilaar Online Shop (MTOS) was held at the FAB Cafe, 3 June 2009, with a mini talk show session with Fira Basuki, editor-in-chief of Cosmopolitan Magazine, as moderator and two guest speakers: Yoris Sebastian, Chief Creative Officer of OMG Consulting, who talks about the phenomenon of online shopping, and Kartika Indah Pelapory, Runner Up of Miss Indonesia 2008, who shares her experience in shopping online.

We have high hopes that Martha Tilaar Online Shop can be one of the choices for consumers who look for practicality in shopping. Thank you to media partners who supported the event: www.detikhot.com, www.okezone.com, Majalah Time Out and Tabloid Nova.
Erlisativani
Corporate Communication Manager
Martha Tilaar Group
email: esativani@martinaberto.co.id
No Hp: 021-93862177
www.marthatilaarshop.com