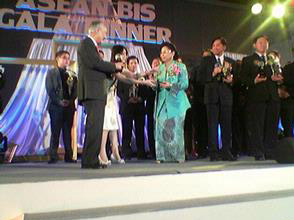 BANGKOK, SATURDAY - The traditional cosmetic industry Martha Tilaar received the Asean Business Award in Bangkok, Friday night (27/2). Martha Tilaar represents Indonesia in the final nomination for the Innovation Category at the ASEAN Business Award.
Her journey for 39 years has finally solidifies Martha Tilaar's position in the regional market. This is no small feat as her struggle resulted in her brand being acknowledged by the ASEAN Business Award 2009.
The competition is certainly surprising. The traditional innovation work goes head-to-head with scientific ones as if this was not an apple-to-apple competition. The technological innovations of Singapore Technologies Engineering Ltd. And True Corporation Public Company Ltd. (Thailand) is being competed with the traditional innovations of Indonesia's natural concoctions that were created by Martha Tilaar Group.
"Our success in breaking through the ASEAN market couldn't have been done without the help of God," Dr. Martha Tilaar says. "This struggle is a form of dedication to Indonesia and it will be the first step towards entering the global market. There's no doubt now that Indonesia is able to penetrate the world market."
Source : picture (kompas.com, jawa pos, seputar indonesia)